The Effects of High Heels on the Feet
Let's be FRANK (no pun intended)...
we weren't designed to wear high heels, and we certainly aren't saying high heels are good for your feet.

But what we ARE saying is FRANKiE4 heels are a healthier option for fashion high heels.

Lets be transparent about why heels aren't great for your feet, then read on to find out how FRANKiE4 can help save your sole!

High heels may look good on the outside, but if they're no good on the inside,
they could be causing irreparable damage to your feet.
Walking in high heels alters joint angles, which in turn increases work at the hip and knee.
This can predispose long-term wearers of high-heeled shoes to pain anywhere from the back to lower limbs.
Forefoot pain such as metatarsalagia and morton's neuroma are common foot pathologies
caused by the forefoot being overloaded in high-heels.
The higher the heel height, the worse it is for your feet. Pressure under the forefoot increases significantly with increasing heel height. As heel height increases, the peak pressure shifts towards the big toe joint and overloads it. The big toe joint is a very important joint so damaging this joint can lead to myriad secondary foot problems.
Long-term wearing of footwear that increases forefoot pressure (rather than the occasional increased pressure when you wear naughty shoes to special occasions), is responsible for foot symptoms secondary to wearing high-heel shoes.
The cost to society as a result of surgeries required to correct hammer toes, bunions, and morton's neuroma excision is huge - it has been estimated that 75% of these surgeries are a result of or at least aggravated by the use of high-fashion footwear.
FRANKiE4 is all about offering a healthier option to styles women love.
Founded by Podiatrists & a Physiotherapist, FRANKiE4 is revolutionising the way high heels are designed.  Our heels are no exception, they exist so women could enjoy the fashion of a high heel, yet still feel comfortable.
The hidden functional footbed helps support and cushions the forefoot.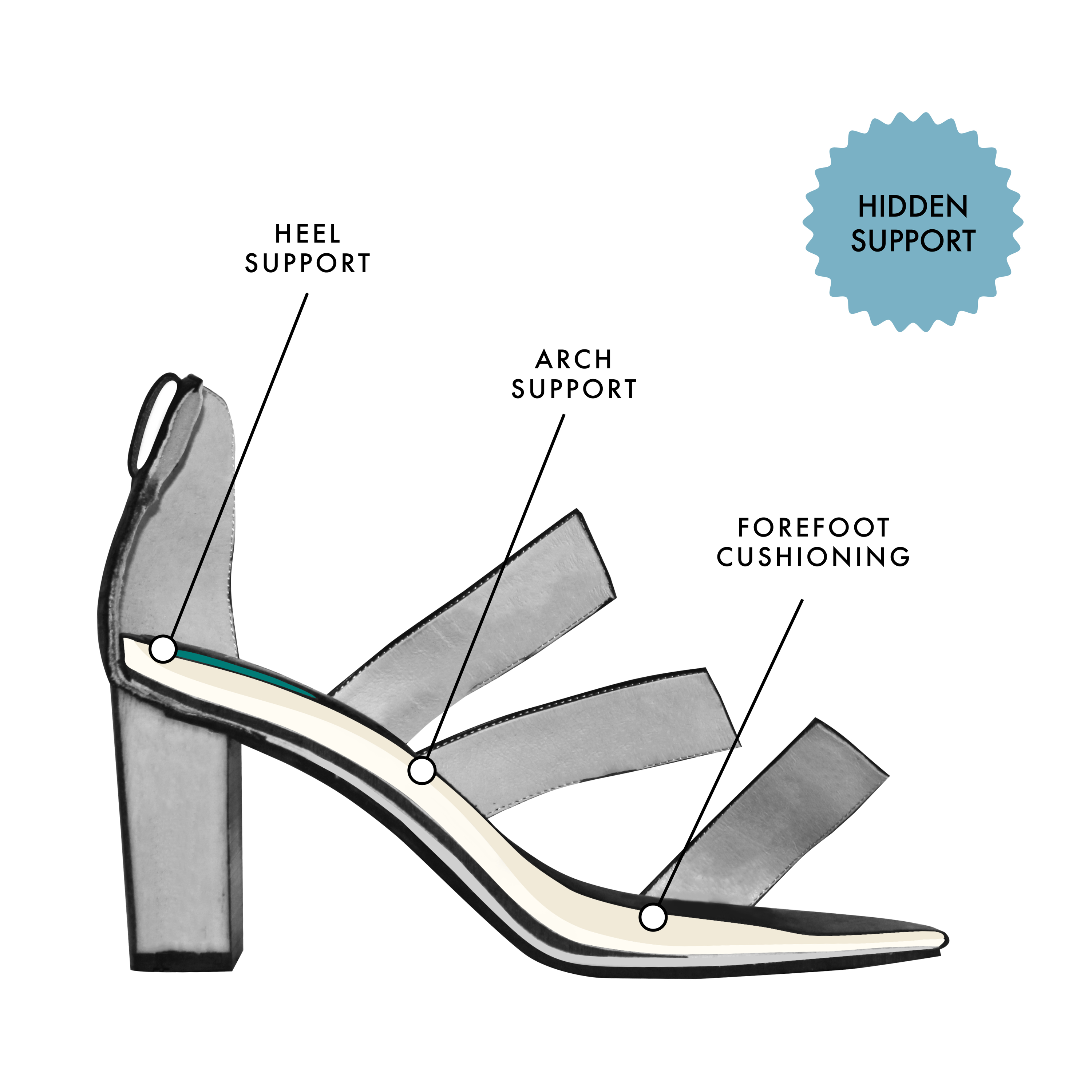 Our Built-in Functional Footbeds
Our specialised footbeds are dual density, meaning they have a soft outer layer to provide cushioning,
and a firm under-layer to provide heel and arch support.
Cushioning and support is biased to where it is needed in a high heel style. Clever!
The designs also ensure adequate width across the forefoot to minimise compression.
This helps enable the foot to function as well as possible at a high heel angle.
Love the height of a heel, but crave support and cushioning?
Come experience the FRANKiE4 difference and try some of our high heel styles below.